Accomodation
Comfortable & Cosy Rooms! All for Your Ideal Rest!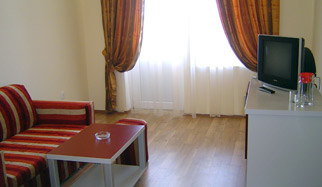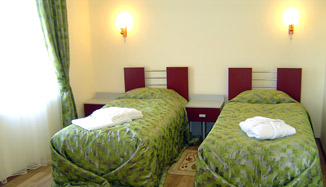 43 modern one, two, three storied cottages serve for the Customers. The cottages have the capacity of 287 guests per day. The assortment of cottages gives visitors wide choice opportunity.
Each of 2 off 3-storey cottages constructed at the large pool is comprised of 6 suites (each suite comprised of a living room and a bedroom), rooms have been furnished for resting of 2 persons to the European standards.
Room alternatives: double and 4-person standard rooms, 5-, 6- and 7-person family rooms, double 2-room suites. All the rooms have landscape into to the garden.
Accommodation type: full board or only breakfast included.
There are the following types of rooms:
48 suites each comprised of a double room.
14 suites each comprised of a double bedroom and 1 dining room.
12 suites in 3-storey buildings with 2 bedrooms and 1 living room on each floor.
14 suites comprised of 2 off 4-person rooms.
12 suites comprised of 3 off 5-person rooms.
5 off 6-person family cottages.
Room particularities: Balcony, Small refrigerator, Split conditioner, Telephone, Satellite TV, Shower, Hair drier, Room service, Furniture set, Extension telephone, Water closet, Heating systems, Wi-Fi.