"Palma" Recreation Center
Magnificient, Beautiful Place for Relaxation!
Palma Recreation Center is located in one of the most charming places of Azerbaijan - in Nabran, on the coast of the Caspian Sea. You can find everything necessary for your healthy and full value rest in "Palma". Seawater, fresh air, and fascinating magic nature will fill your holiday with unforgotten impressions and contribute to your good health.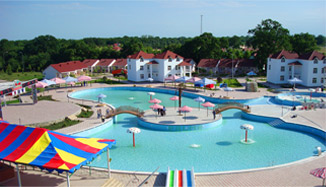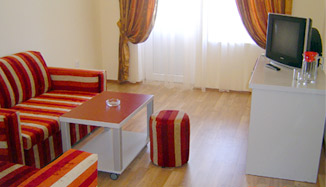 You will find here everything necessary for resting!
Visitors live in comfortable and beautiful cottages, which are conveniently located across the center with its abundance of flowers, trees, and fountains. There is a banquet hall for 250 people, "Tendir" Restaurant, "Ojagbashi" restaurant constructed within the forest line, a 120 – person conference hall, and a disco in the center. The menu of the restaurants which are distinguished for their perfect service comprises the best dishes of Azeri, Russian, and European kitchens.
The sport complex includes a lawn-covered football playground, volleyball and badminton playgrounds, tennis and billiard tables, and children's playground.
At your disposal are 2 large and comfortable pools provided with reliable and electronic cleaning systems made in Germany and Turkey.
One of the pools measures 275 m2, and the other 2200 m2 wide. There is a pool for children next to each pool. There is a separate "Aquapark" next to the largest pool.