Location
Nabran recreation zone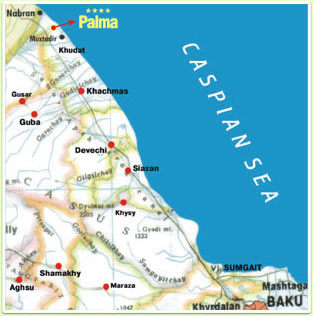 Nabran recreation zone which is very popular in Azerbaijan is in territory of Khachmaz district of Azerbaijan. Lots of touristic bases, boarding houses and holiday houses that can satisfy even most demanding tourists at the healthy places where sandy beaches join with the picturesque forests.
Khachmaz district is located in the northeast part of Azerbaijan. Part of Samur – Davachi plain is located in the territory of this region. Khachmaz region is bordering with Russia on the North. 20.800 hectares of the region's territory are covered with forests. There are 8 rivers and 3 artificial lakes in this region. Khachmaz has moderate climate. It has thermal and mineral springs. The region's flora includes dog-rose, bindweed, honey mint and other medicinal plants are widespread. There are favorable conditions for hunting and fishing in Khachmaz region, Hunters' Society operates in this region. "Gulalan lake" reserve is under control of this Society.
During archeological digs in the territory of Khachmaz region, there were found graves, as well as labor and hunting and domestic tools relating to Bronze Age. Khudat one of ancient castle – cities is located in Khachmaz region ("Khudat" means "Allah's gift"). Khudat land has lots of drinking water resources. Famous Shollar water pipeline that was commissioned in 1917 and that plays an important role in supplying Baku city with drinking water takes its beginning in Shollar village near Khudat.
Over 60 historical and cultural monuments have been protected in this region. The most ancient archeological monuments in the territory of the region are the ancients settlements and kurgans related to Bronze Age near Mollaburhan, Hulovlu, Garachik and Hasangala villages. Settlements related to middle age near Janakhir and Bostanchi villages are also such type of monuments. It has multiple historical and cultural monuments. Mosques constructed in the 20th century in Morug – oba, Galaghan, Uzun-oba, Taghar –oba villages, Shah Abbas mosque – religious school related to 15th – 16th centuries in Gragurtlu village, Sheykh Yusif mosque in Shikhlar village (15th century( have also been protected. Railway station and water tower constructed in early 20th century (1900 – 1903) are of interest. These buildings are at technically good condition nowadays.
Carpet waiving among traditional folk arts has broadly developed in the region.